---

We are getting married in a castle in Rockwall, TX..Castle Douglas.
We both love medieval/fantasy! (Click here to go to their site.)
(UPDATED pics of the castle at bottom of bio!!!!!!)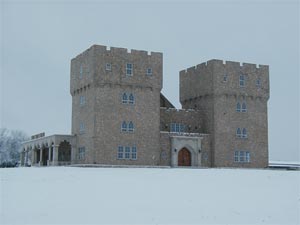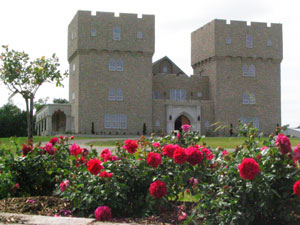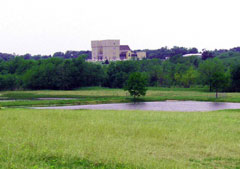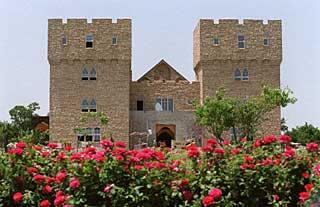 Our engagement pics...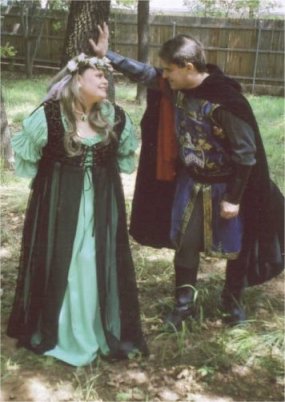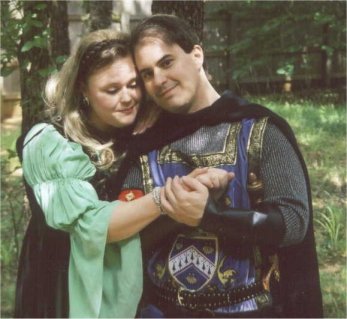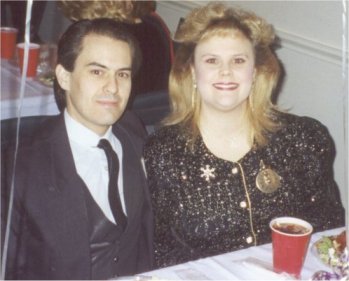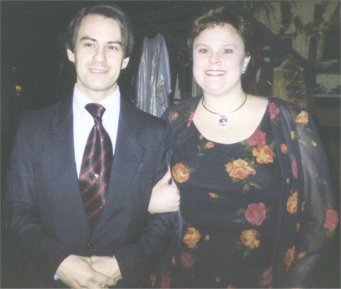 Steve and I, New Year's Eve 2002.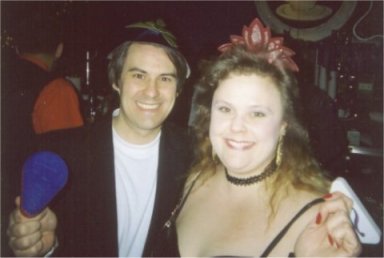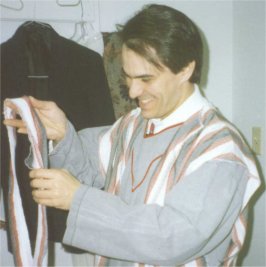 ---
We had this portrait painting done of the two of us by a wonderful painter.
She took our photo posed, then painted the rest around the image placed on a canvas.
(Our painting is on her site! Click here to go to her site.)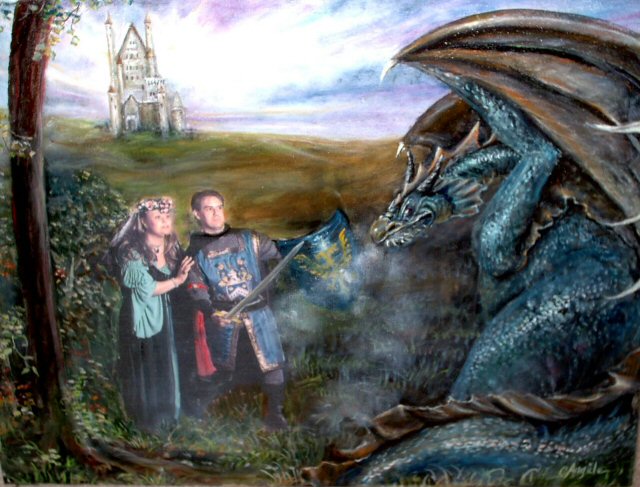 ---


Since I am getting married in a CASTLE, I have all my accessories "castle themed"...or fairy tale!

This is the wedding cake I want from Romanos Bakery
(except in white instead of grey like the 2nd pic & w/lots of color w/flowers...I've "superimposed" the flowers from pic#1 to pic#2!).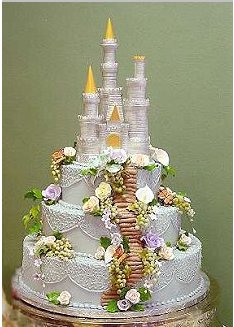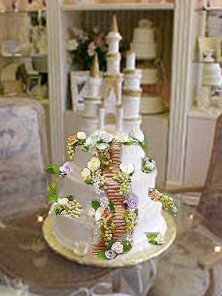 ---
Below are dolls of Steve and I that I had special ordered to match our outfits in the painting above. (I collect dolls) I will have the dolls at the foot of the castle cake as though they are on their way to their dream castle! We will have the painting displayed near the cake on an easel. (Our dolls are on her site! Click here for the site of the lady who made our dolls.)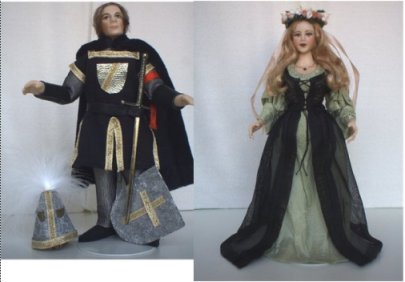 ---
Our bride's cake serving set...(from BombayCompany.com)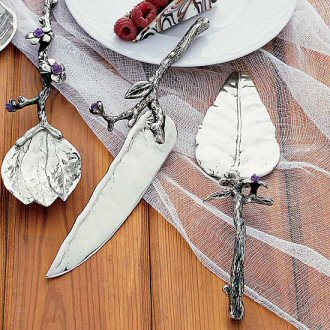 Plus, they say to have another serving set for the groom"s cake and I thought this one was perfect for the castle theme (from favorsbyserendipity.com):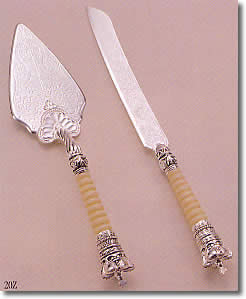 For the groom's cake, we found a place to do this perfect "castle fortress" to go with our castle bride's cake...and on top, we are planning to put Steve's family coat of arms (like this other cake below):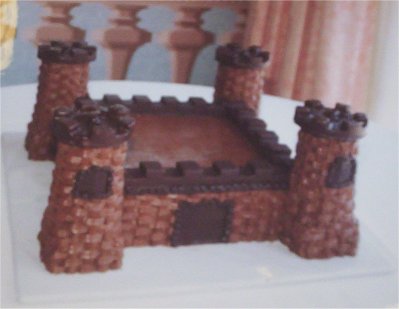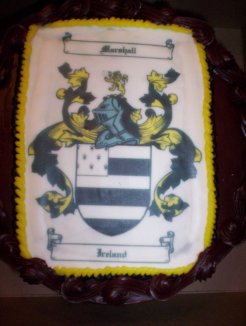 ---
THE RING!! (Of course its a heart!) And the matching wedding ring (and they didnt even come as a set!)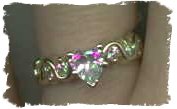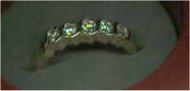 Here is what Steves ring looks like. It"s two-tone. (rings were from the Jewelry Exchange)


---
These are the gorgeous champagne flutes we will be using for sparkling cider. I've had these a while and you can't buy them anymore. They are pewter of Snow White and the Prince...aren't they great? I've included close-ups of the front and back. The details are wonderful!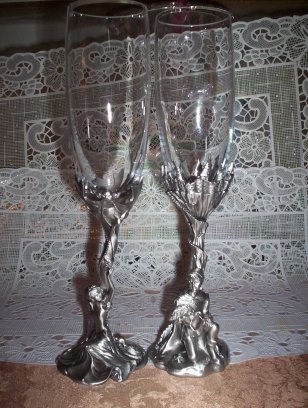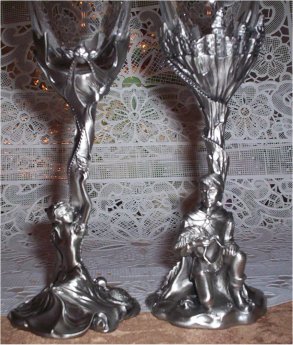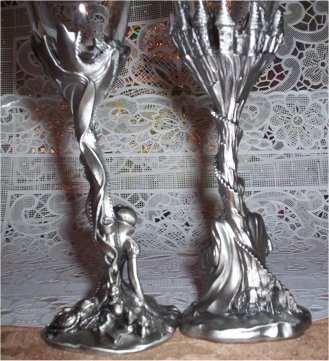 ---
This is the communion goblet we ordered from Scarborough Faire. The castle base will be gold-plated. (this photo is doctored to add the goblet to the base part) There is a treasure chest at the base with little colored jewel stones. And we will be renting this kneeling bench for taking the communion.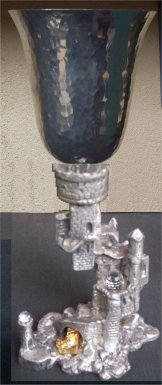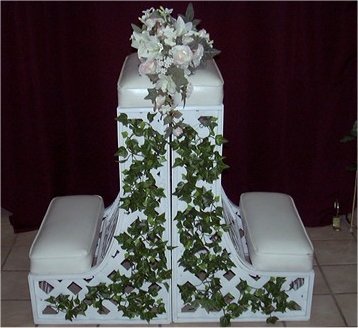 ---
We are renting this archway (sorry it's so dark):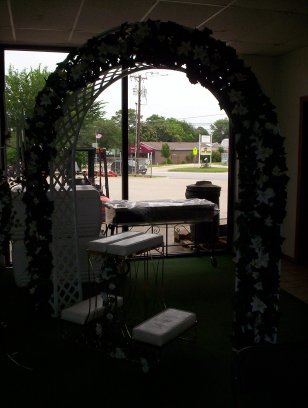 ---
This is the castle flower girl basket that my fiancees neice Haley will carry...(bought off Ebay) and the ring bearer pillow that his other neice Ashley will carry...(bought from Davids Bridal)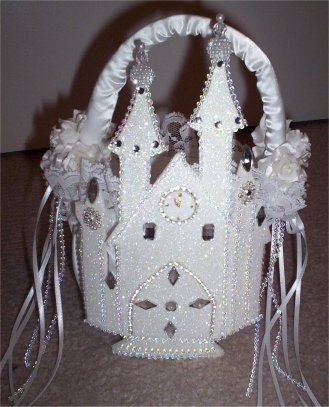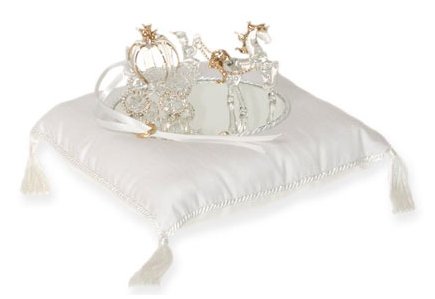 ---
Here are his two neices, Ashley and Haley...arent they adorable?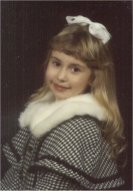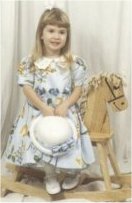 ---
This is the hand carved unity candle we will use...(bought off Ebay) and the stand (a rental, but in gold)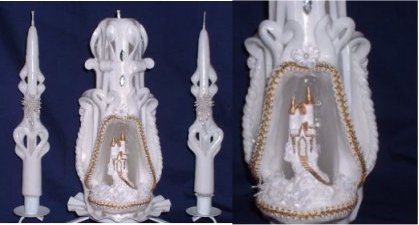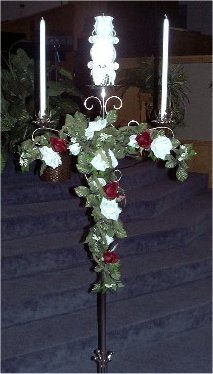 ---
This is our guestbook with castle frame on it and also the guestbook pen with castle...(both also bought off Ebay)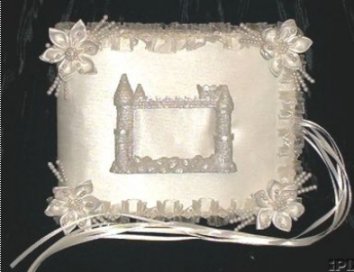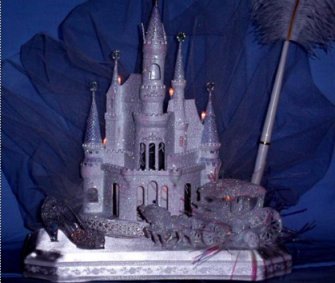 ---
On the tables, here are some of the other things we plan to have:

Cinderella wedding globe with picture, and we"ll have the Snow White & prince dolls with our family crests (mine shown here) and a picture collage of each of us growing up.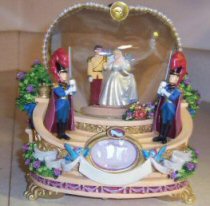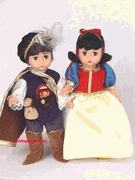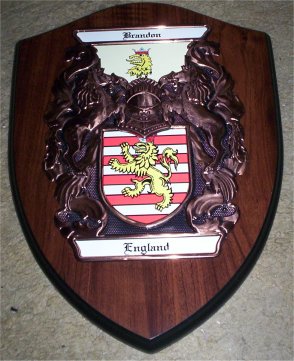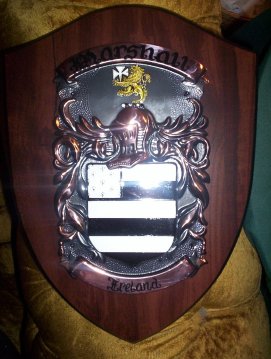 And then a picture collage of the two of use together with this Snow White wedding doll and knight. (Like I said, I love Snow White!)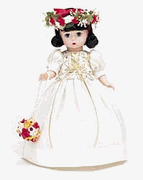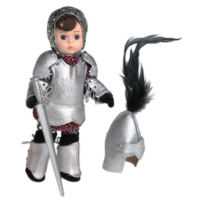 And I just got this tea set and coach cookie jar from the Disney catalog...aren"t they perfect! They will also be on the tables.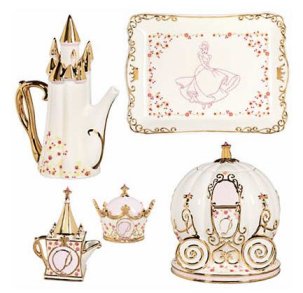 And I had this REAL authentic sheild made for FI for his birthday. We will put it out with his sword as one of the decorations on the guest book table.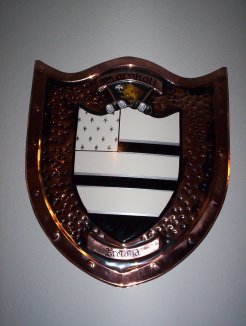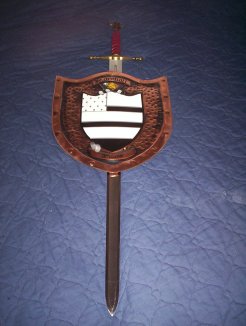 ---
With an October wedding, I am making these for some of the table centerpieces (along with the other table decor above).
I will make them myself in flowers that match the bouquet. Here is the first sample: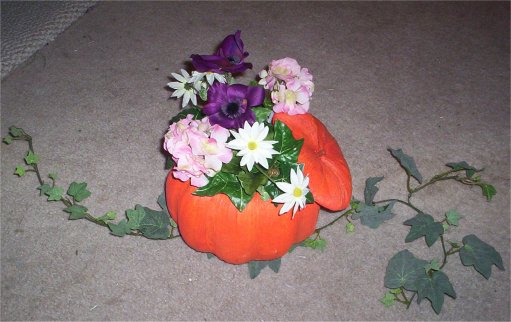 ---
Here are my silk bridal bouquet and throw-away bouquet...except the throw-away will have longer and more multi-colored ribbons. My bridal bouquet has my grandmother's handkerchief made into it so I will have a piece of her with me at my wedding. She always wanted to see me get married.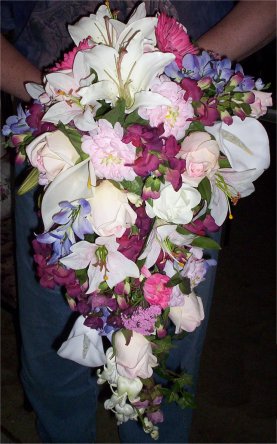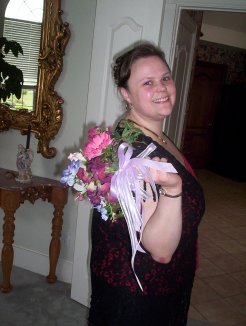 ---
Our invitations!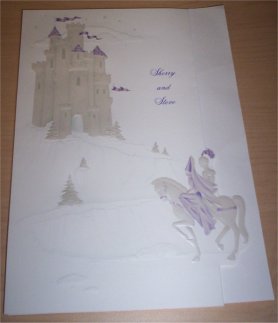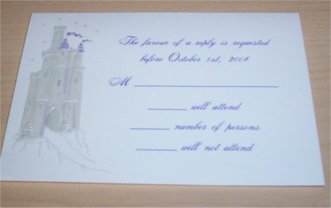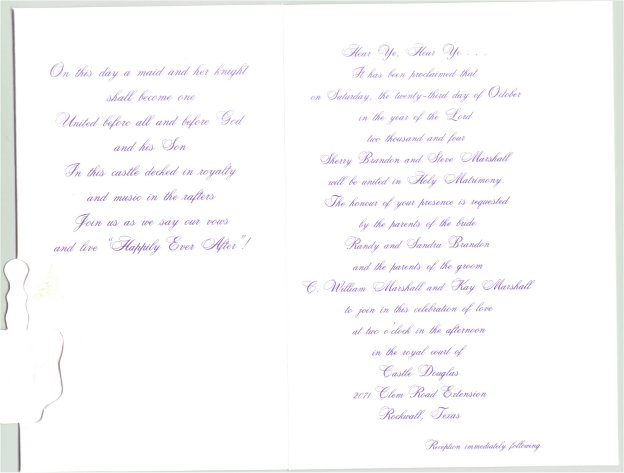 ...and the map insert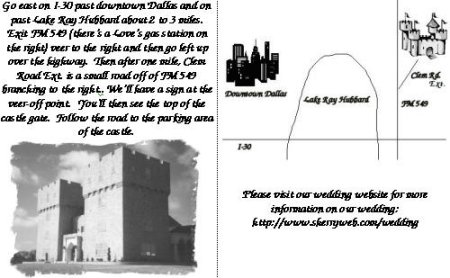 ---
I like these foil covered chocolate coins in gold and silver colors (and they have a castle!)
Goes with the "medieval" theme. (from chocolateimpressions.com)
I would like to use these coins in the favors as well as on the tables.






And these styles for the two sides of the coins: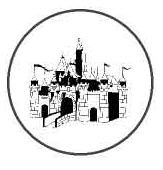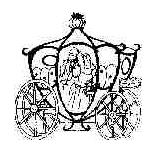 I like these doves for the bubbles (from Ebay)...they go with the heart candle below: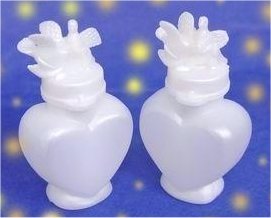 This is what I"ve found to put in the favors:
a boxed heart-shaped candle with a lovely poem
(already made up from wedding-favors-wedding-favors.com...yes, the name is doubled)
and also including the heart dove bubbles and one of each of the three colored chocolate coins
plus a tube of flower seeds (from castlesintheair.com) inside a white organza bag.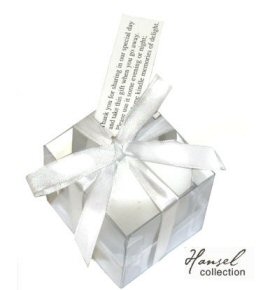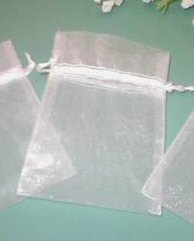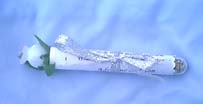 Our personalized napkins!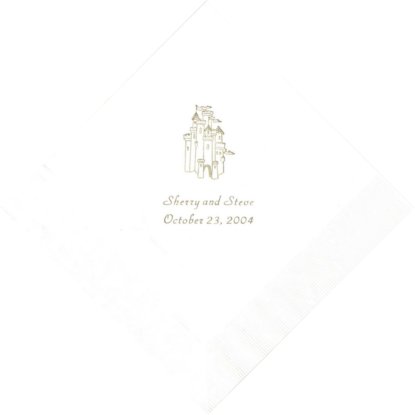 For the programs, I want to have a poem that goes through my fiancee's and my history together, so I wrote this poem. What do you think?

Like two ships passing in the night
Never would this couple meet
In junior high or high school
For them this time was bittersweet


A self-proclaimed bachelor
And a maid waiting for her knight
When should these two soulmates
Find that their time was right?


It was God's hand that led them both
To the church where they'd soon meet
Still the time wasn't right so friends they'd remain
Rather than part in defeat


Again with God's hand, drama drew them together
They grew in the Lord and in their friendship
And then came the day he asked her again,
'Shall we try a second trip?'


So on this day the maid and knight shall become one
United before all and before God and His Son
In this castle decked in royalty and music in the rafters
Join us as we say our vows and live "Happily Ever After"!



---
I'll be doing my own programs for two reasons. One, I didn't find a vendor that would do the program in the trifold way I wanted. I didn't want it to look like a "brochure". And second, they are too darn expensive! Here are screen shots of the program layout I have so far: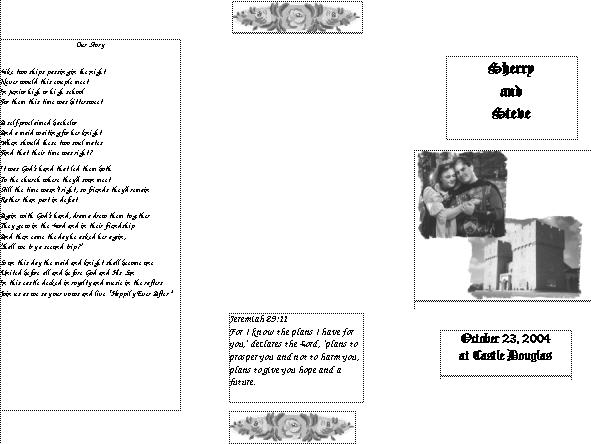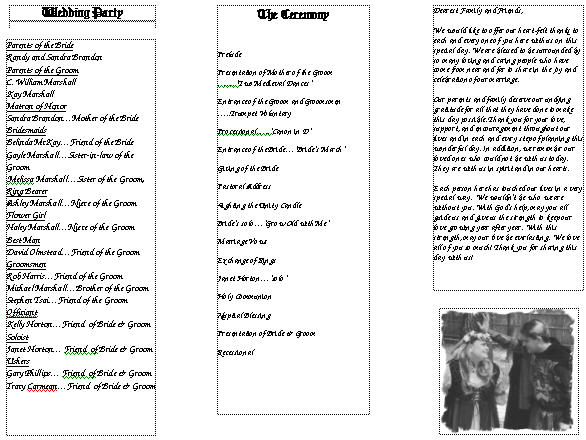 If you want to use this as a guide for your program,
download the Word document by clicking here


---
Our "medieval" hors d'oeuvres reception menu will include:
Marinated Chicken and Beef Kabobs


Stuffed Mushrooms with Sausage, Mozzarella and Pine Nuts


Chicken Drumettes


Beef Wellington


BBQ Ribs


Crab Cakes


Cheese and Fruit display (perhaps like the one of these below)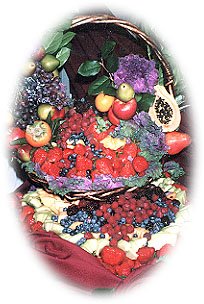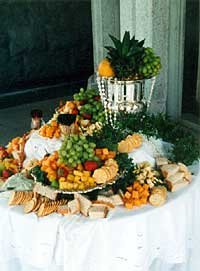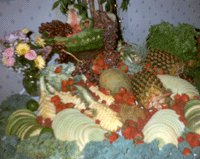 Also, we plan to have a "punch fountain", such as this one. (but the rental place I found has silver with gold trim!)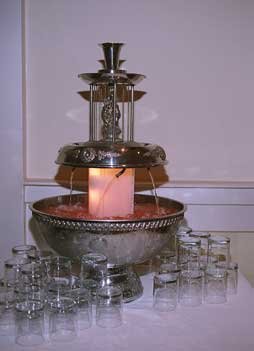 ---
Yes, I AM a descendant of royalty (I'm related to the Prince of Denmark...like in "The Prince and Me"!) and so I WILL be wearing a tiara! (this note is for all those Knotties that say only princesses can wear tiaras! HA HA!)
So this is my lovely "Princess" tiara. (from Davids Bridal)




This is my necklace and earrings (from Ebay). They go nicely with my tiara and the low dress neckline.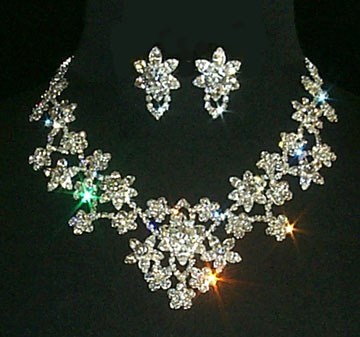 ---
I had a dress, and then changed my mind and exchanged it for this one from Davids Bridal.
I thought this one fit the medieval theme better, plus the style of the bridesmaids dresses
...and I really like this style better!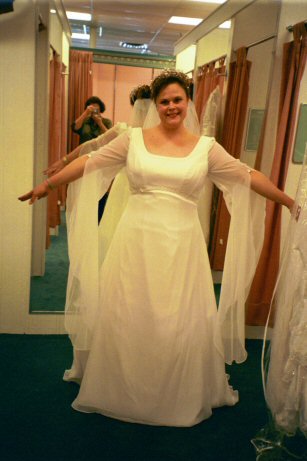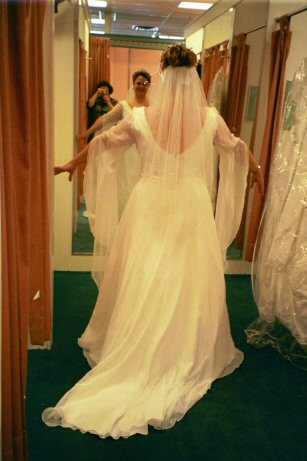 I"ve added some appliques here to dress up the front a bit more...I"ve also now had a longer train with trim around the edges added to be removed or bustled at the reception.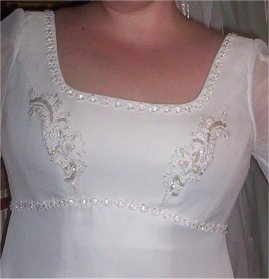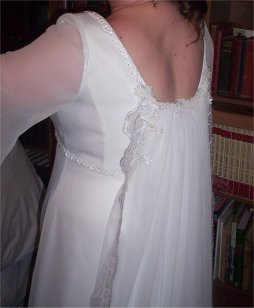 It will look more the 2nd example picture when it is fully extended (thanks to a Knottie for this pic I used as an example to go by!)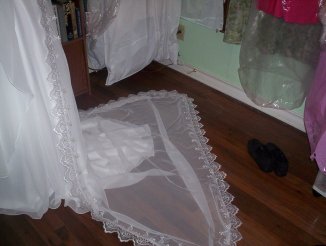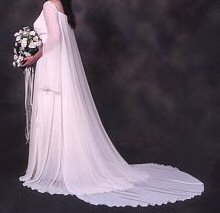 ---
This was my hair trial...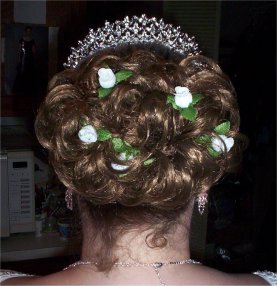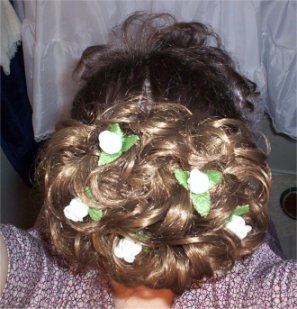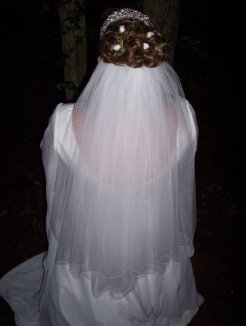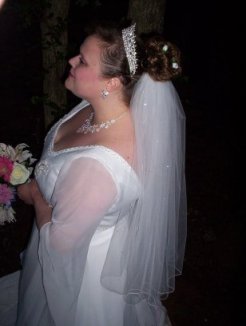 ---
*********UPDATE!!!!!!!!!!!****************
I had my bridal pics done! We're sticking with the "theme" of medieval/Cinderella etc. These were taken at Medieval Times, a pumpkin coach on a private residence (with their permission) and my parents' backyard. And I added some vignette effects to some of the photos myself. What do you think?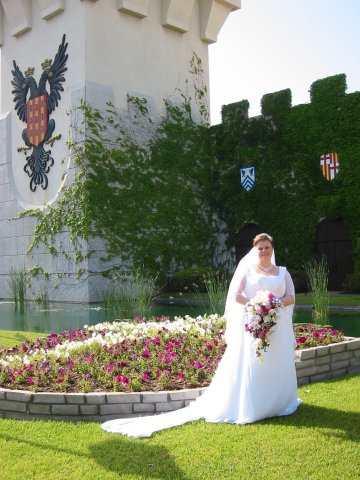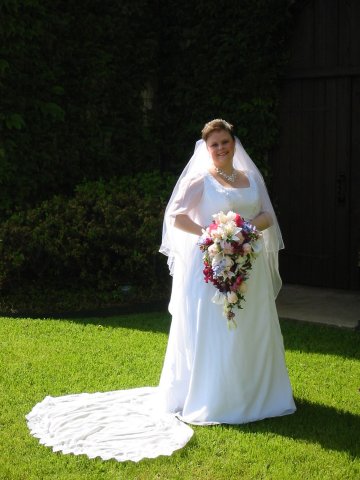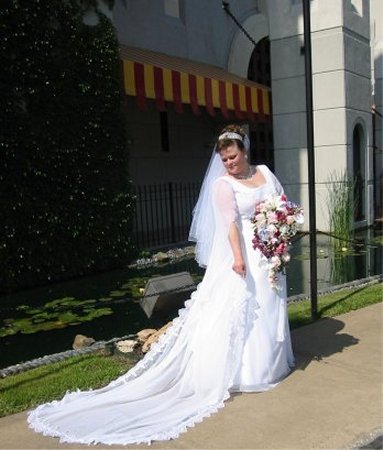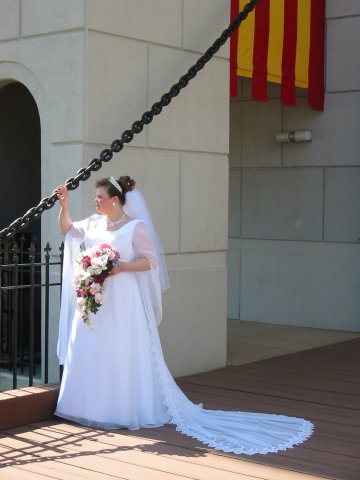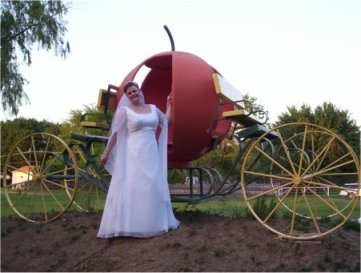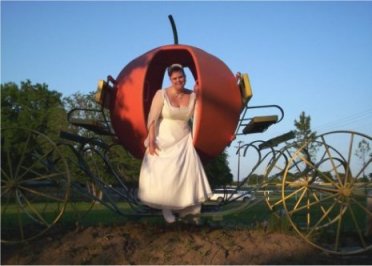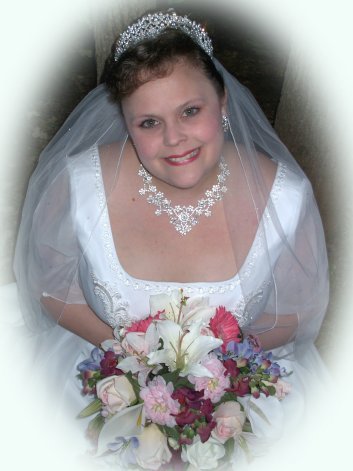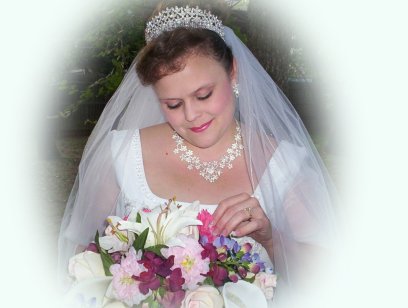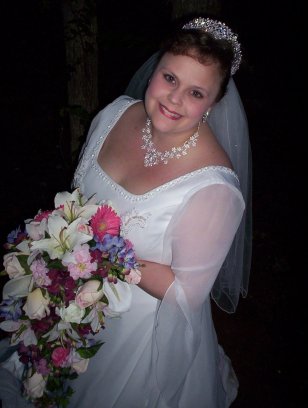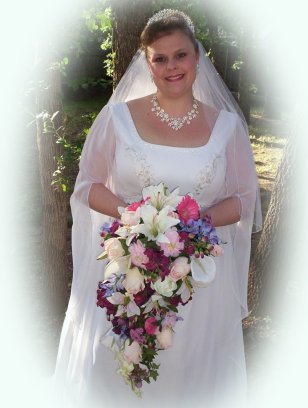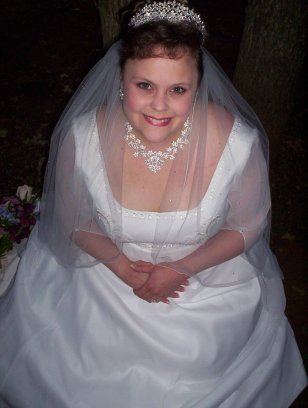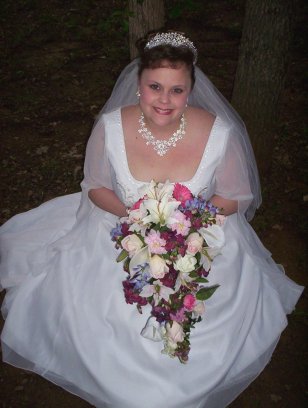 ---
My shoes are virtually heel-less, like a slipper so I won"t be too tall, as my fiancee is shorter than I am. (from Davids Bridal) I will be the most comfortable person there!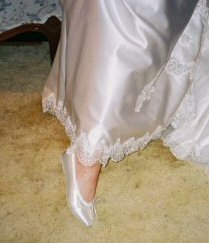 ---
I had sooooooo many garters to choose from and it was so hard to choose, I decided to wear them all! The first is the "toss" garter and so it's a must (from Party City). And I plan to sew a castle charm on it (maybe like this) for the castle themed wedding.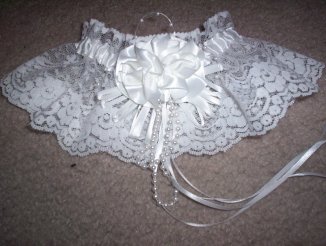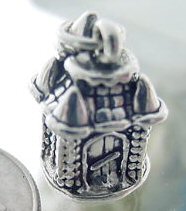 The second is a handmade pretty blue one from a craft fair that is my "something blue".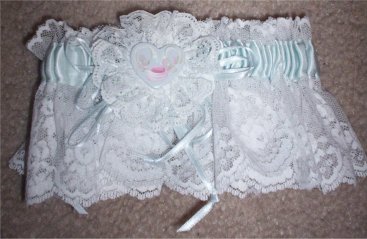 And this one is musical! It playes "Here Comes the Bride!" (from Davids Bridal) Gotta have that one! And I am going to sew a little castle charm on it for our castle themed wedding. But I don't know which one yet. Which do you think? (all bought from Ebay)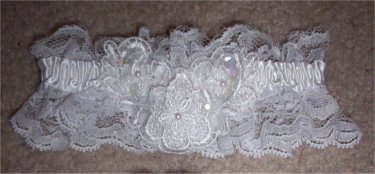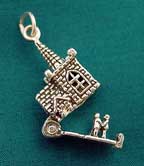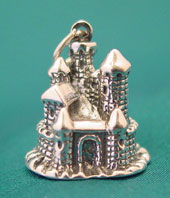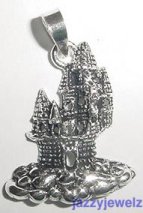 These are the most special...they were the garters my Mom wore in her Naval Academy wedding in Annapolis, Maryland. The first has a cool navy anchor, but the second is so old fashioned and elegant...I'll just have to wear them both!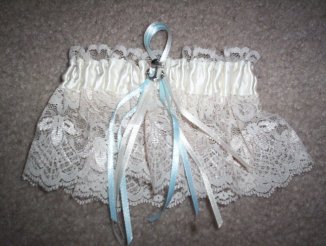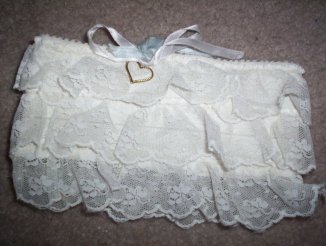 ---
Here is the wedding purse I've chosen (from Party City). This isn't for putting money in as it's for traditionally. For me, it will house my essentials like lipstick, mirror, tissues, (bride's emergency kit!) etc. And my Mom will probably be in charge of it for me.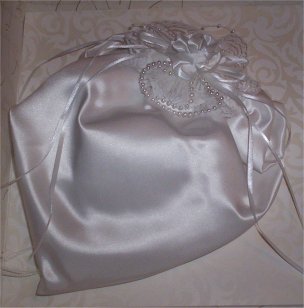 ---
My Mom has bought me this "sixpence" penny for my shoe (Davids Bridal). As the old rhyme goes, "Something old, something new, something borrowed, something blue...and a sixpence in your shoe."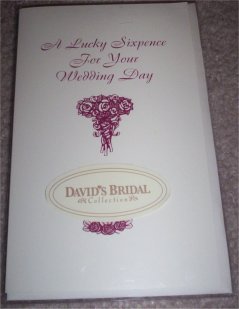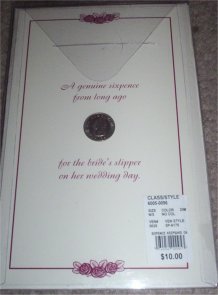 ---
This is the bridesmaids dress at Davids Bridal that I am going with, and in this color too.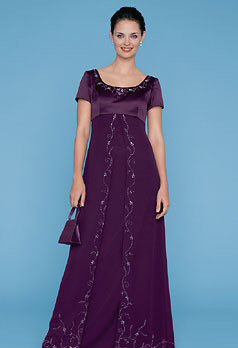 I like this jewelry set for the BMs to match their plum dresses. (from allcostumejewelry.com)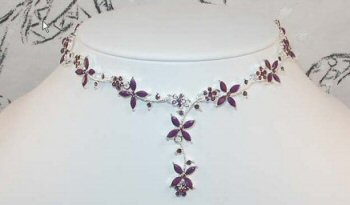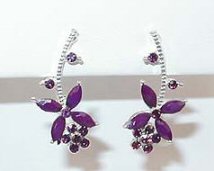 I"m going to give them the jewelry as a BM gift inside a tote bag that I am adding their monogram to myself with some other useful goodies like these...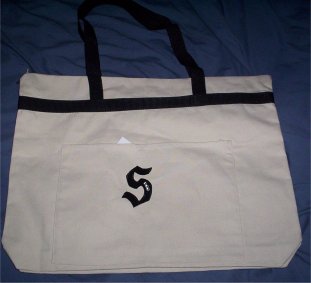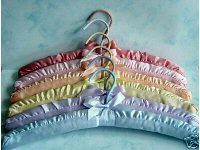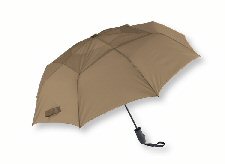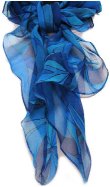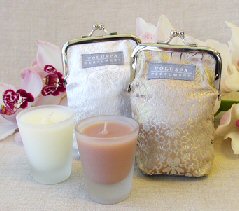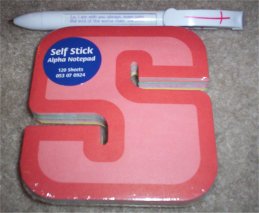 ---
These are the ring bearer and flower girl dresses. (from Burlington Coat Factory...they are much less expensive there than at the bridal shops!)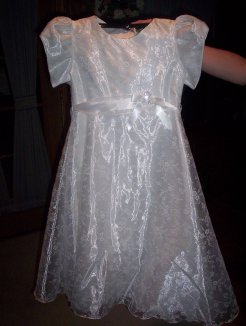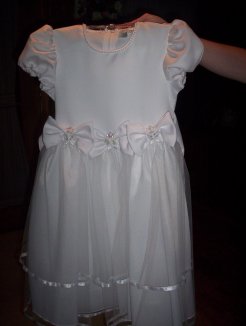 We are going to get floral head wreaths for the flower girl and ring bearer at Scarbourough Rennaisance Faire Waxahachie, TX. Maybe something like this, but in mostly white flowers with some plum flowers and pink pearls and white and plum ribbons: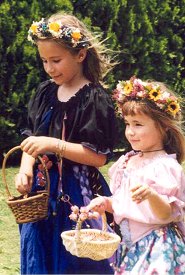 And I want to give the two girls something special. I"m thinking this doll. It's actually a "first communion doll"...but they look like little flower girls. I would add a flower crown instead of a veil and I will have a charm of their first initial on the necklace (so they'll know which is which). And the two girls each have a charm bracelet so I was thinking this castle charm to hang on the doll's wrists so they can put it on their charm bracelet.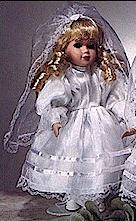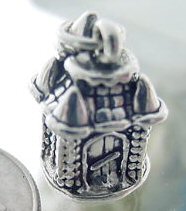 And I thought these Disney Princess purses with other "purse stuff" would be cool! We all love Disney Princesses...me especially with Snow White!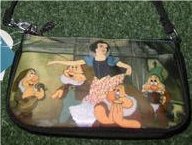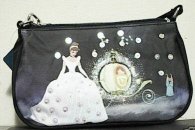 Also, I want to get each of the girls their own ring pillow and flower basket to keep. Here is the ring pillow for Ashley and I"ll probably make the flower basket for Haley myself with a crystal castle on it like the one below.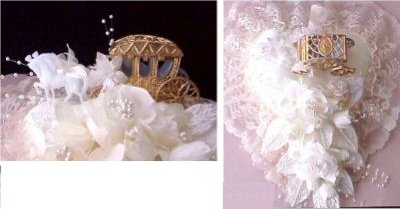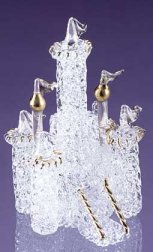 ---
We will be having childcare downstairs (in the dungeon! LOL!) where the kids can watch movies or play games. We will have a "goody bag" for each of them that will have items similar to these below. Plus, we will have a "castle" playhouse tent for them to play in! And a Fisher Price castle toy to play with too!(see below)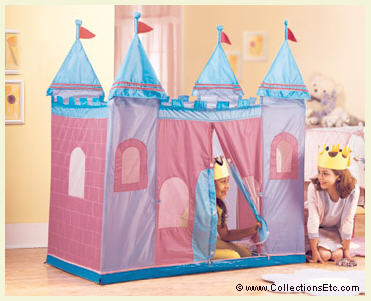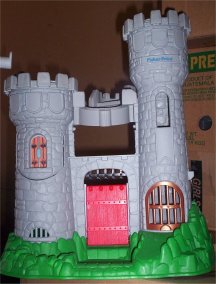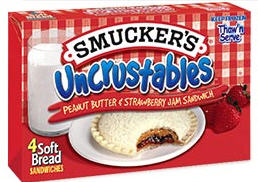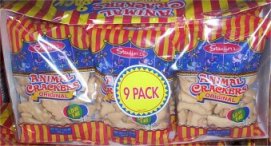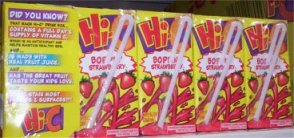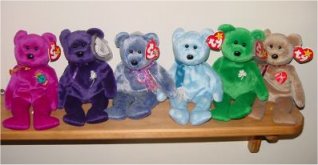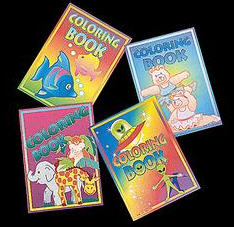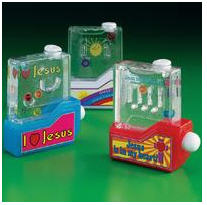 ---
Also planning on having OOT bags in the guest's hotel rooms like these...since we are from Texas, and having a BBQ RD.


Ideas to put in the bags are:

gum/mints
ibuprofin/aspirin
umbrella
local brochures
letter/map/phone numbers for wedding and RD
misc. toiletries (not in hotel bathroom)
bottled water
snacks (maybe microwave popcorn, since the rooms have microwaves)
stamped postcard of local area (Texas!)
---
And thinking of these baskets for the bathrooms, women's and men's.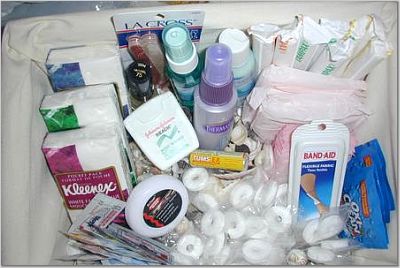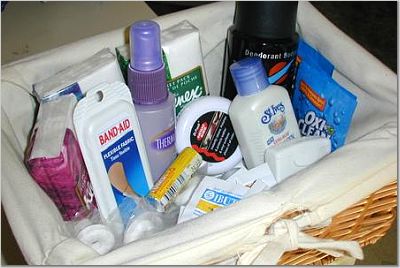 ---
Steve would like these Excalibur sword letter openers for his GMs.
(swordsofhonor.com, ffandf.com)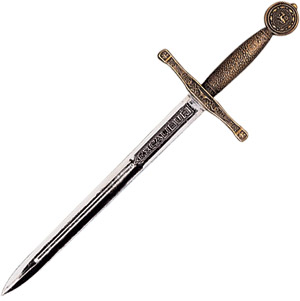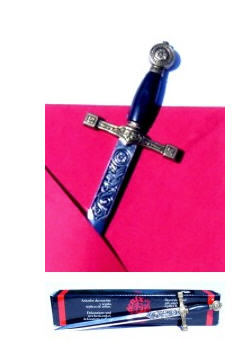 ---
This is the look Steve wants...with an ascot and vest in silver and a black tux. And silver/platinum vests and bow ties for the groomsmen. (we"re going with a great Bridal show deal from Mens Wearhouse!)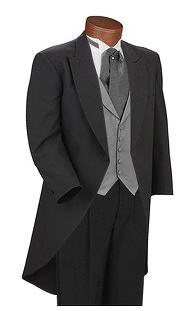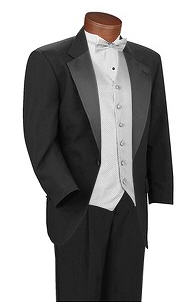 ---
And this is the car decorating kit we are going to use (from Hobby Lobby). We have arranged to have the car pre-decorated and hidden in the castle barn so that none of the GM's can mess up the beautiful decorations. We will have the last laugh! And I would like to make a "happily ever after" sign like this for the back of the car.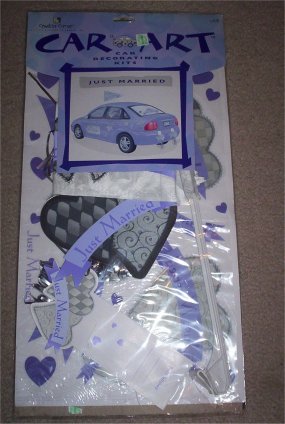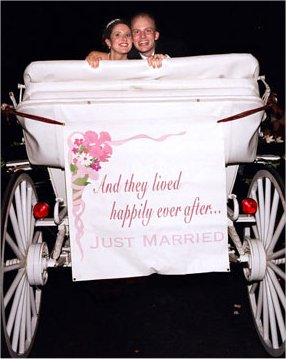 ---
The rehearsal will be a BBQ picnic at Bob Eden Park in my town. They have a covered pavillion, restrooms, kid's playground, etc. We will be having Spring Creek BBQ.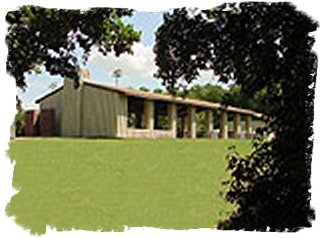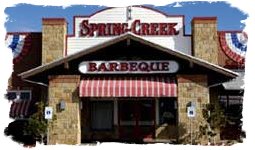 And my FI and I will be wearing these at the rehearsal dinner! Aren't they a scream?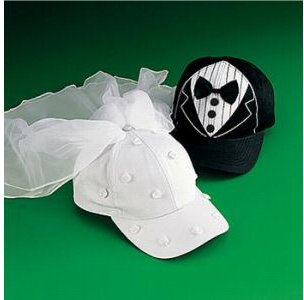 ---
My new purse!!!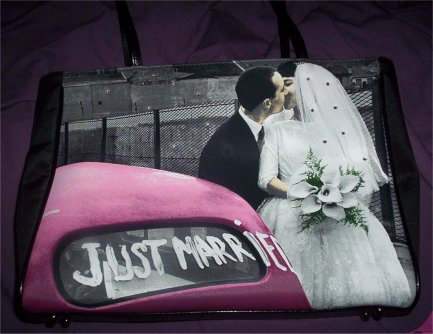 ---
Our first wedding gift!!!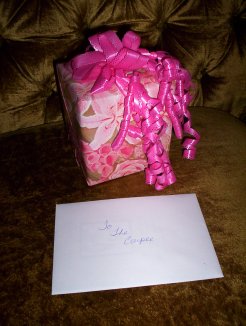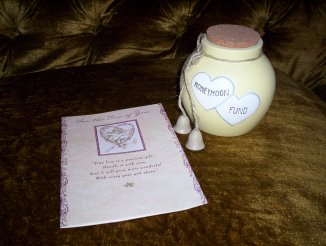 ---
My bachelorette banner! (it lights up!)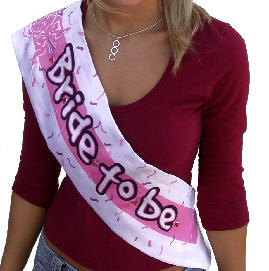 ---
OK, for the honeymoon, we are taking a Western Carribean cruise out of Galveston (we live in Texas). It will be on Royal Carribean's Rhapsody of the seas. We will have a junior suite with a balcony and refrigerator and everything! I can't wait!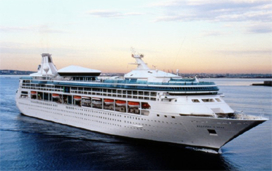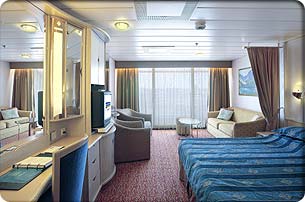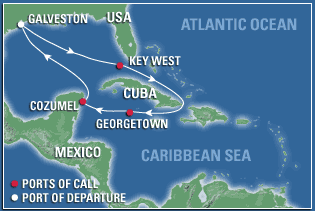 And we we will be having the ship decorate our stateroom with fan, Royal Caribbean garlands and streamers and a cake too!! Just like below. Plus we're getting the "classic" romance package including bottle of Domaine Chandon, breakfast for two delivered to our stateroom, canapés for two delivered intermittently, after dinner sweets, and a formal 8" x 10" portrait in silver-plated frame.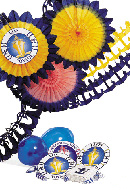 If you're going on a Caribbean cruise or honeymooning in the Caribbean, I have the PERFECT send-off song for your DJ to play to send you off to your honeymoon! It's the wedding recessional song in STEEL DRUMS! Click here to download it. Then you can transfer it to a wav file and put it on CD! Enjoy!


---
Here is the floorplan for a HUGE over 1600 sq. ft. tri-level apartment we will be renting while shopping for our house. Awesome deal!


---
*****UPDATE!******* I have new pics of the completed castle! Woohoo!

Here is the front and side of the castle.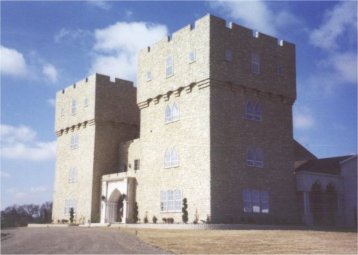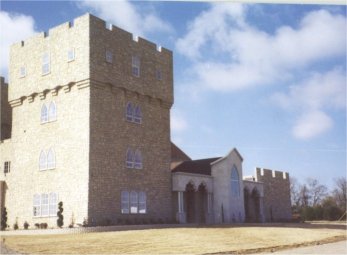 ---
This is the castle front door and a close-up.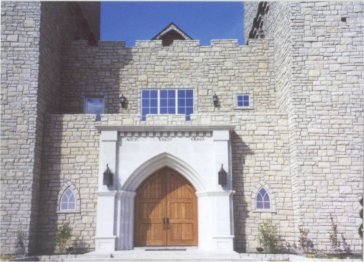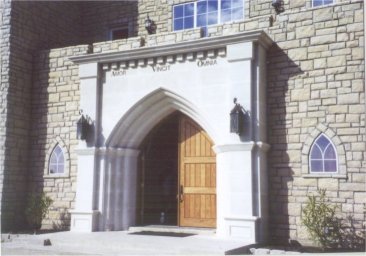 ---
This is the entry way, which is the "armory" with suits of armor. We'll have our guest book and pictures and other decor in here. And you can see into the great hall from here. This is where I will start the walk down the isle with my Dad.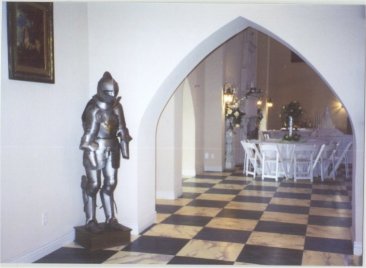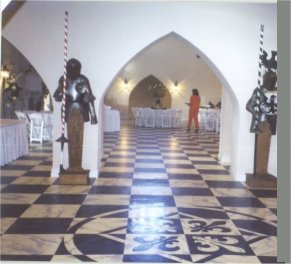 ---
This is a "skylight" in the armory. I thought it a perfect place to take pics of me and my BM's. Next is the fireplace in the great hall.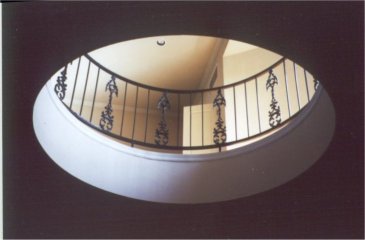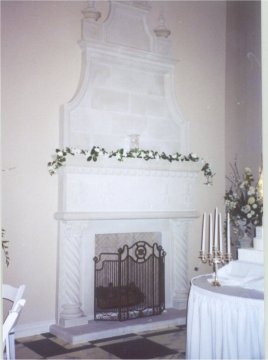 ---
Here are the bride's and groom's ready rooms: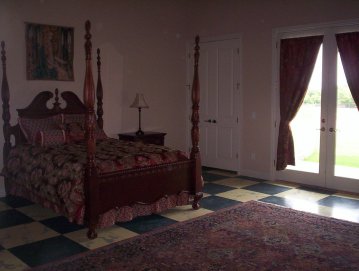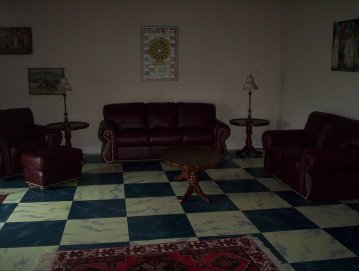 ---
These are some of the stained glass window sculptures. Aren't they beautiful?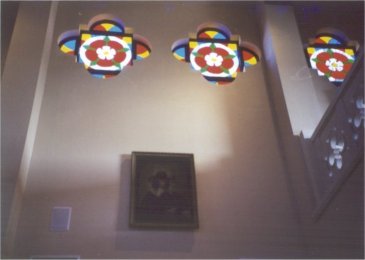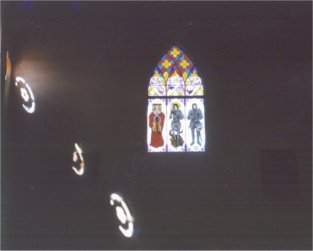 ---
This is the balcony where musicians play, and where I will toss my bouquet from. I love it! And this is the fireplace in the ballroom.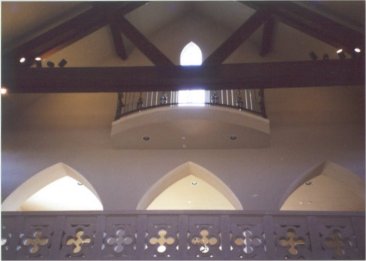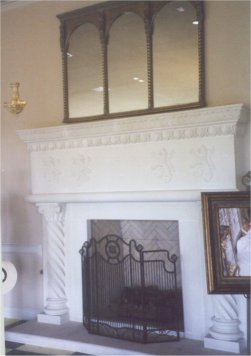 ---
This is the ballroom and ballroom chandolier. The ballroom is where the reception food and cakes will be.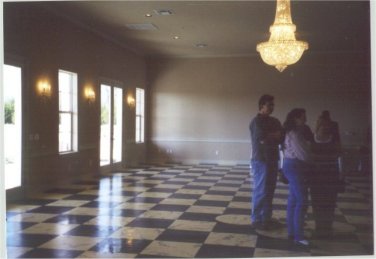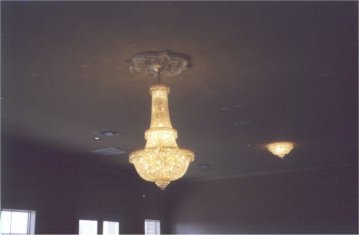 ---
This is the corner where the bride's cake will be...and on the other side will be the groom's.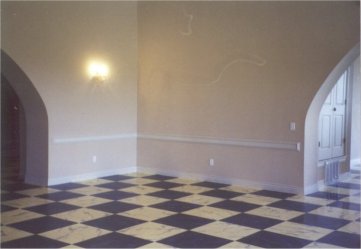 ---
Here is the doorway into the pub area from the ballroom and inside the pub. We may put some tables in here for the guests to sit while they are waiting for the great hall to have the tables set up after the ceremony.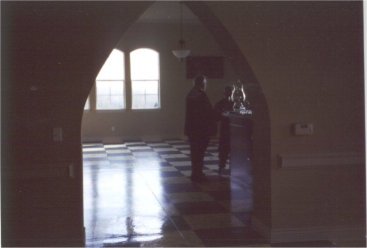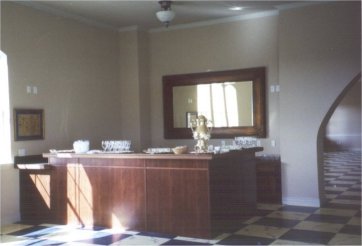 ---
Here are some pictures of the Great Hall set up with tables and chairs...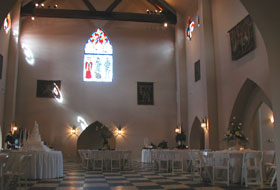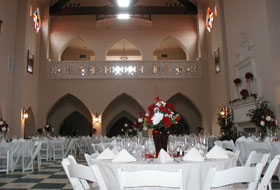 ---
Here is an "almanac" forecast of the wedding day! Click on the pic to see what yours will be!




Here is a bird's eye view of the castle. However, these photos haven't been updated since 2002, so it was only in the construction phases.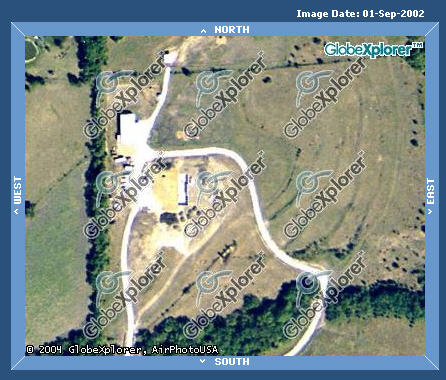 ---
OK...I have to show off my furbabies (hey...everybody else does it too!)
The black and white is Grace, as in "saved by grace". I rescued her from being euthanized at a shelter as a very small kitten in September, 2003.
And the second gorgeous gal is Princess. She is a Himalayan blue cream lynx point that I got from a breeder who was looking for a loving home for her. I"ve had Himalayan cats most of my life. And she looks so much like one I just lost last year, it almost makes me cry!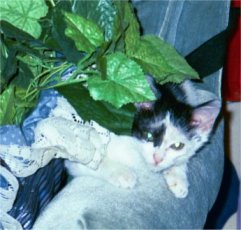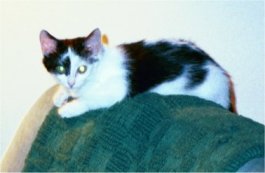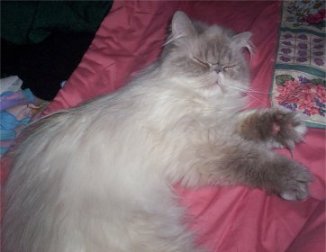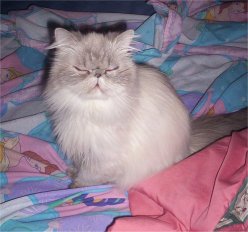 ---
Trying not to be a...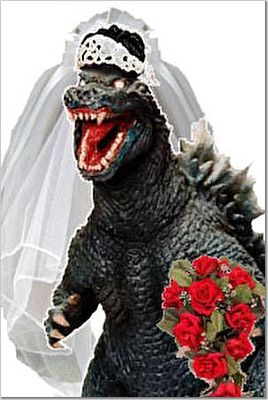 ---