We had this portrait painting done of the two of us by a wonderful painter. She took our photo posed, then painted the rest around the imaged placed on a canvas. We will have the painting displayed near the cake on an easel. (Our painting is on her site! Click here to go to her site.)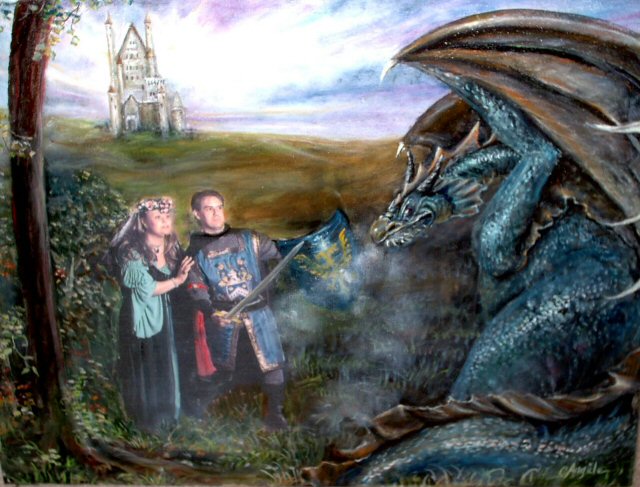 ---
THE RING!! (Of course its a heart!) And the matching wedding ring (and they didnt even come as a set!)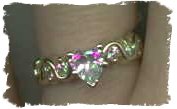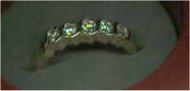 Here is what Steves ring looks like. It"s two-tone.


---

Since I am getting married in a CASTLE, I have all my accessories "castle themed"...or fairy tale!

This is the wedding cake I want from Romanos Bakery
(except in white instead of grey like the 2nd pic & w/lots of color w/flowers).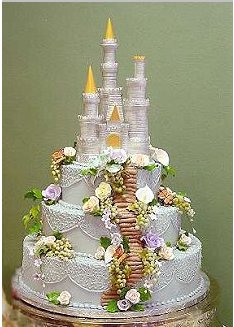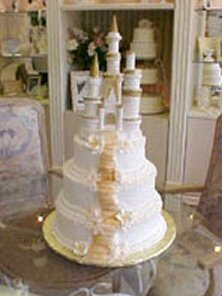 ---
Below are dolls of Steve and I that I had special ordered to match our outfits in the painting above and this picture. (I collect dolls) I will have the dolls at the foot of the castle cake as though they are on their way to their dream castle! (Our dolls are on her site! Click here for the site of the lady who made our dolls.)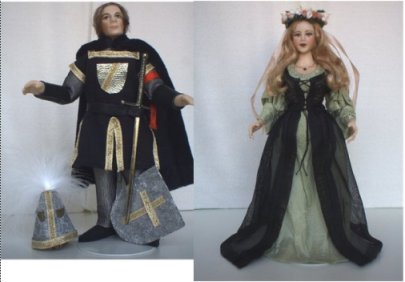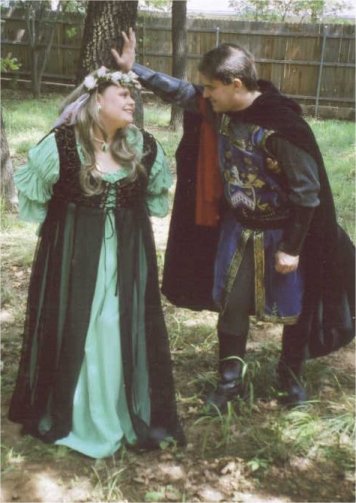 ---
Our bride's cake serving set...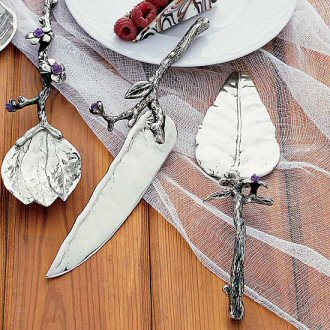 Plus, they say to have another serving set for the groom's cake and I thought this one was perfect for the castle theme: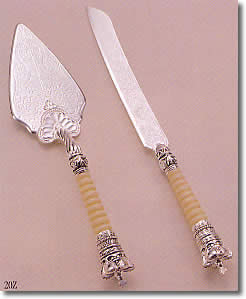 For the groom's cake, we found a place to do this perfect "castle fortress" to go with our castle bride's cake...and on top, we are planning to put Steve's family coat of arms (like this other cake below):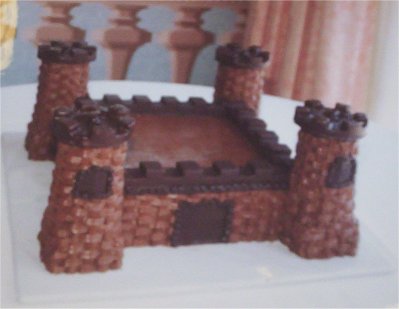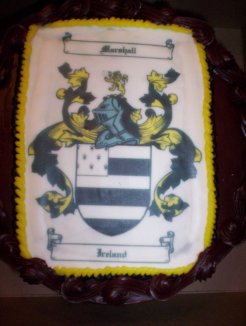 ---
These are the gorgeous champagne flutes we will be using for sparkling cider. I've had these a while and you can't buy them anymore. They are pewter of Snow White and the Prince...aren't they great? I've included close-ups of the front and back. The details are wonderful!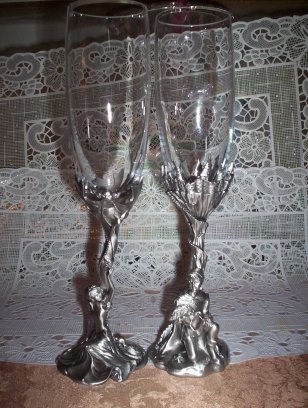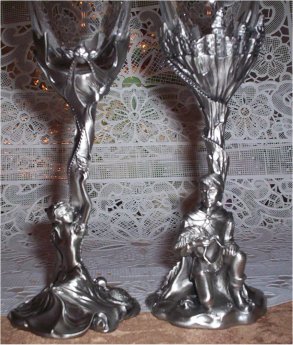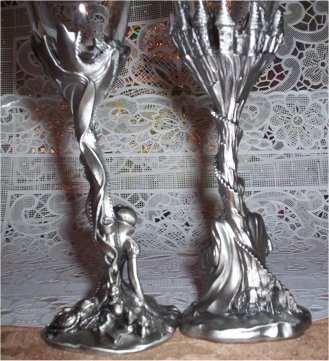 ---
This is the communion goblet we ordered from Scarborough Faire. The castle base will be gold-plated. (this photo is doctored to add the goblet to the base part) There is a treasure chest at the base with little colored jewel stones. And we will be renting this kneeling bench for taking the communion.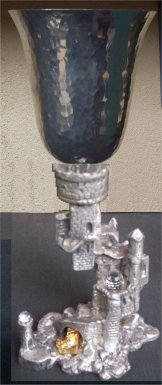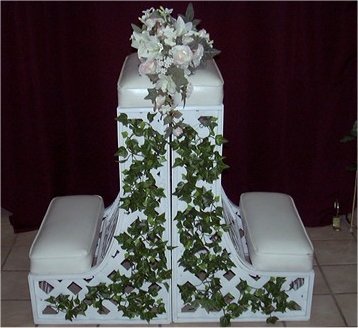 ---
We are renting this archway (sorry it's so dark):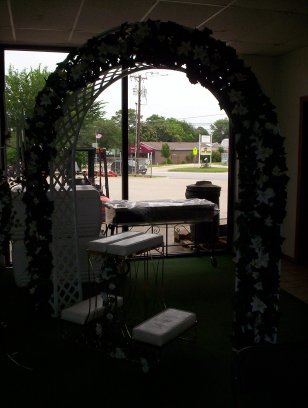 ---
This is the castle flower girl basket that my fiancee's neice Haley will carry, and the ring bearer pillow that his other neice Ashley will carry..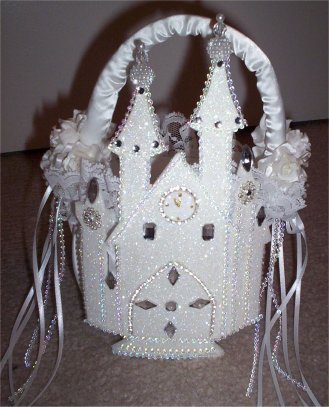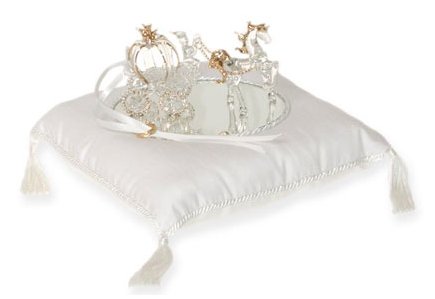 ---
Here are his two neices, Ashley and Haley...aren't they adorable?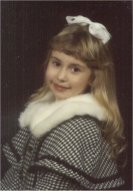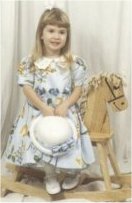 ---
This is our guestbook with castle frame on it and also the guestbook pen with castle...(both also bought off Ebay)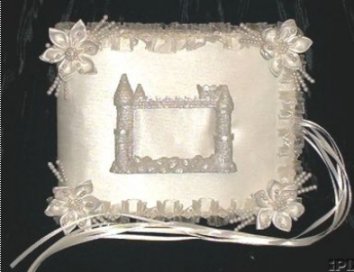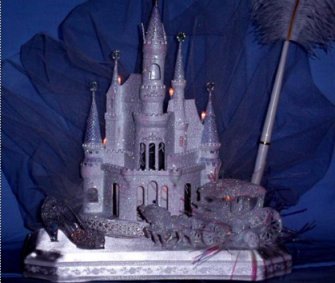 ---
This is the hand carved unity candle we will use...(bought off Ebay) and the stand (a rental, but in gold)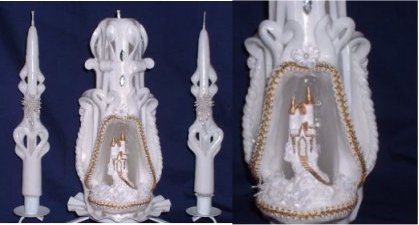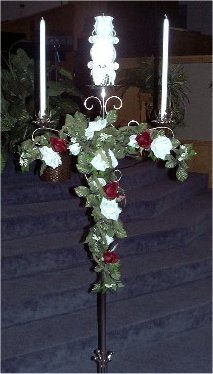 On the tables, here are some of the other things we plan to have:

Cinderella wedding globe with picture, and we'll have the Snow White & prince dolls with our family crests (mine shown here) and a picture collage of each of us growing up.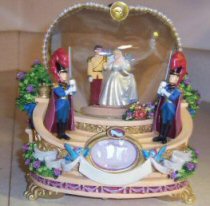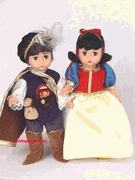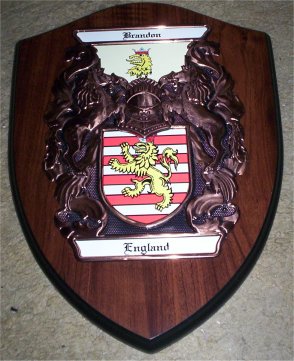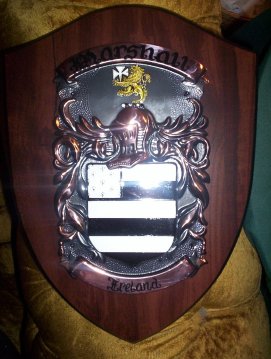 And then a picture collage of the two of use together with this Snow White wedding doll and knight. (Like I said, I love Snow White!)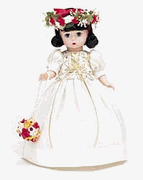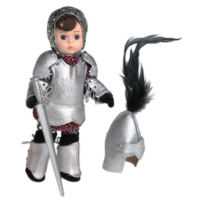 And I just got this tea set and coach cookie jar from the Disney catalog...aren't they perfect! They will also be on the tables.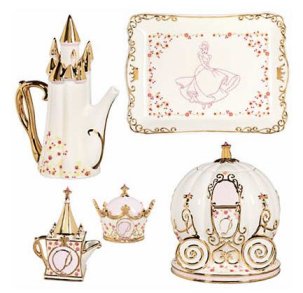 And I had this REAL authentic sheild made for Steve for his birthday. We will put it out with his sword as one of the decorations on the guest book table.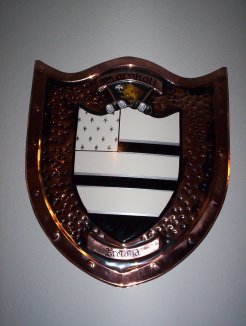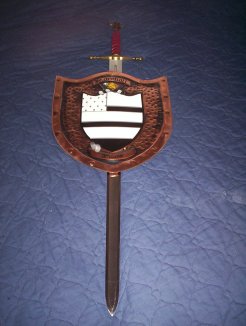 ---
With an October wedding, I am making these pumpkins for some of the table centerpieces (along with the other table decor above). Here is the first sample: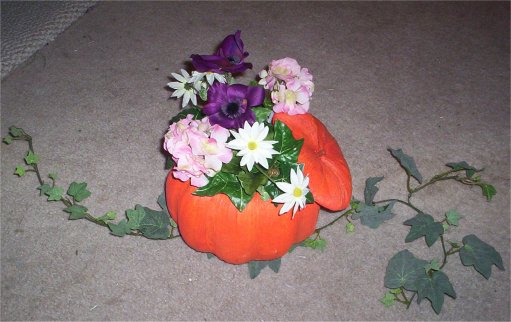 ---
Our "medieval" hors d'oeuvres reception menu will include:
Marinated Chicken and Beef Kabobs


Stuffed Mushrooms with Sausage, Mozzarella and Pine Nuts


Chicken Drumettes


Beef Wellington


BBQ Ribs


Crab Cakes


Cheese and Fruit display (perhaps like the one of these below)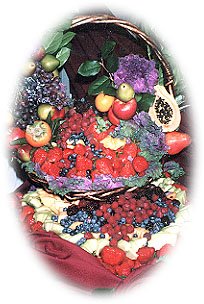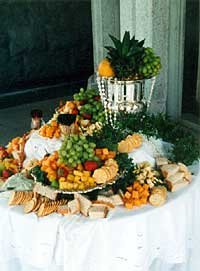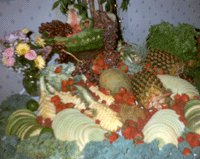 Also, we plan to have a "punch fountain", such as this one. (but the rental place I found has silver with gold trim!)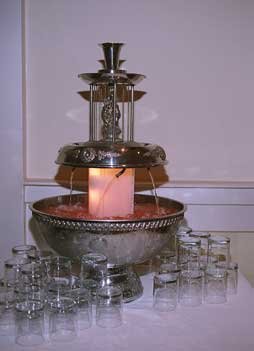 ---
For the programs, I wrote this poem that goes through Steve's and my history together:

Like two ships passing in the night
Never would this couple meet
In junior high or high school
For them this time was bittersweet


A self-proclaimed bachelor
And a maid waiting for her knight
When should these two soulmates
Find that their time was right?


It was God's hand that led them both
To the church where they'd soon meet
Still the time wasn't right so friends they'd remain
Rather than part in defeat


Again with God's hand, drama drew them together
They grew in the Lord and in their friendship
And then came the day he asked her again,
'Shall we try a second trip?'


So on this day the maid and knight shall become one
United before all and before God and His Son
In this castle decked in royalty and music in the rafters
Join us as we say our vows and live "Happily Ever After"!



---
We will be having childcare downstairs (in the dungeon! Ha ha!) where the kids can watch movies or play games. We will have a "goody bag" for each of them that will have items similar to these below. Plus, we will have a "castle" playhouse tent for them to play in! And a Fisher Price castle toy to play with too! (see below)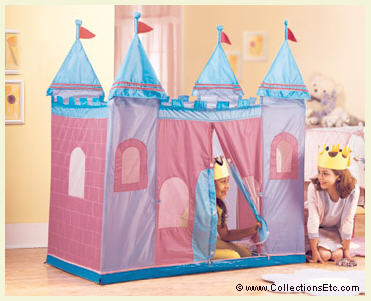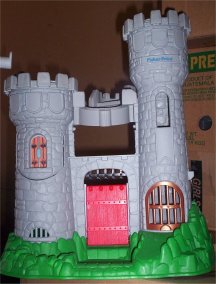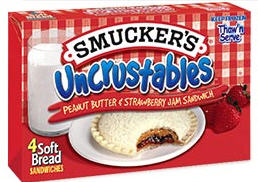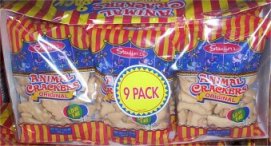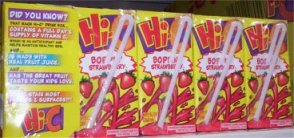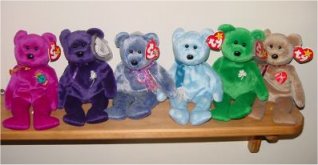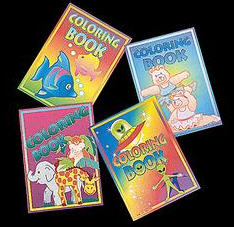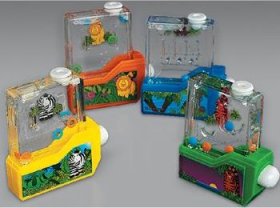 ---
Here is the front and side of the castle.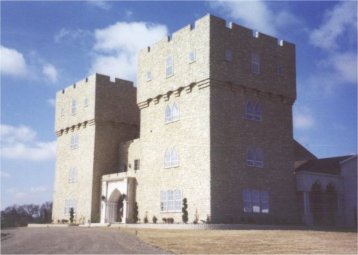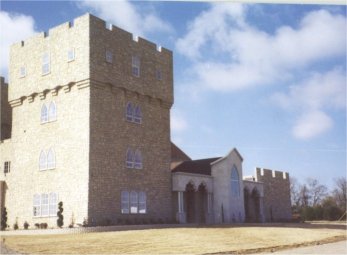 ---
This is the castle front door and a close-up.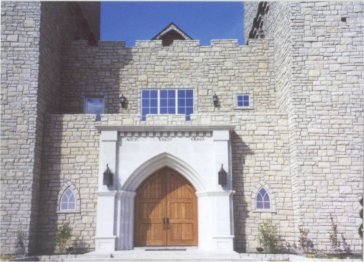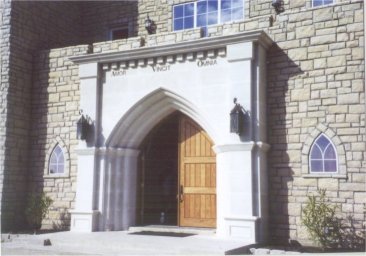 ---
This is the entry way, which is the "armory" with suits of armor. We'll have our guest book and pictures and other decor in here. And you can see into the great hall from here. This is where I will start the walk down the isle with my Dad.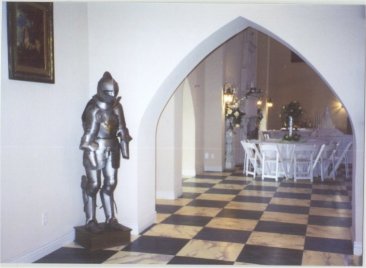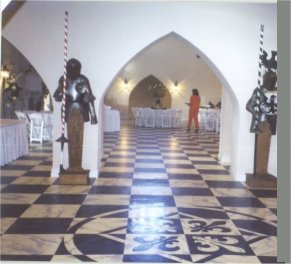 ---
This is a "skylight" in the armory. I thought it a perfect place to take pics of me and my bridesmaids's. Next is the fireplace in the great hall.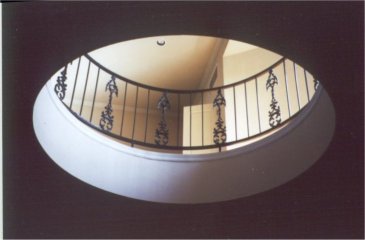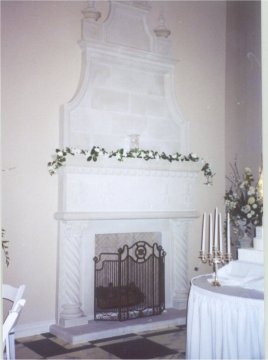 ---
These are some of the stained glass window sculptures. Aren't they beautiful?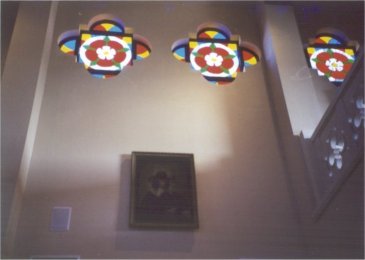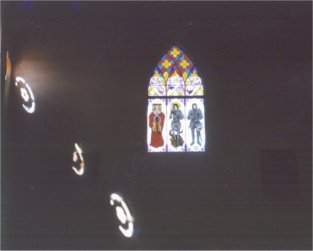 ---
This is the balcony where musicians play, and where I will toss my bouquet from. I love it! And this is the fireplace in the ballroom.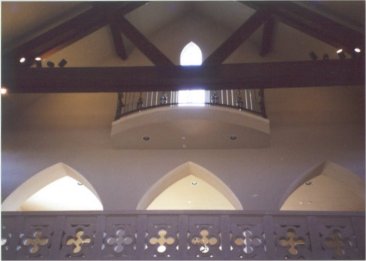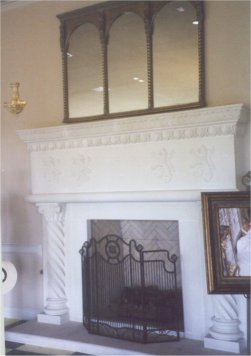 ---
This is the ballroom and ballroom chandolier. The ballroom is where the reception food and cakes will be.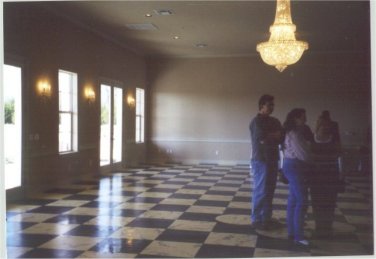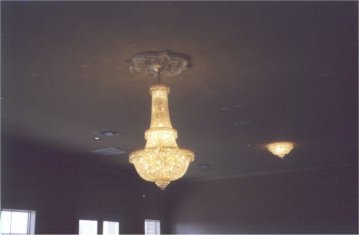 ---
This is the corner where the bride's cake will be...and in the other corner will be the goom's.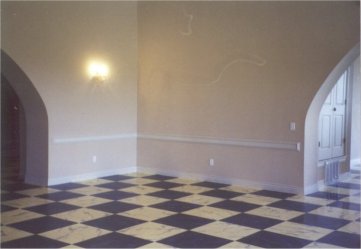 ---
Here is the doorway into the pub area from the ballroom and inside the pub. We may put some tables in here for the guests to sit while they are waiting for the great hall to have the tables set up after the ceremony.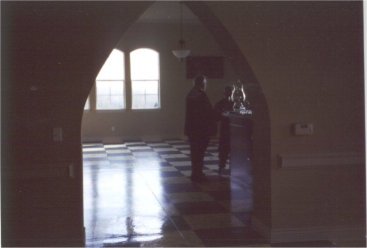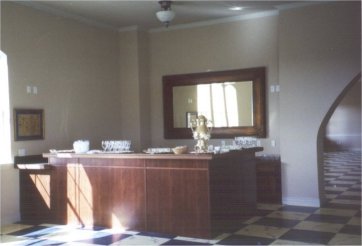 ---
Here are some pictures of the Great Hall set up with tables and chairs...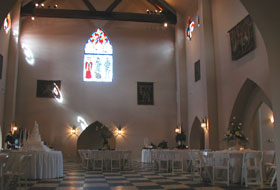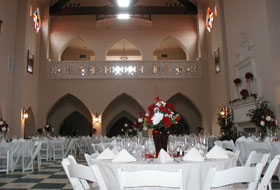 ---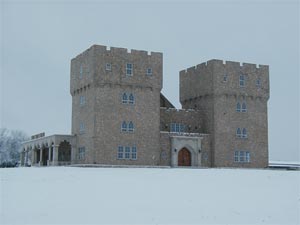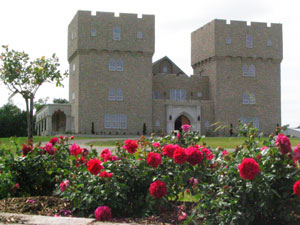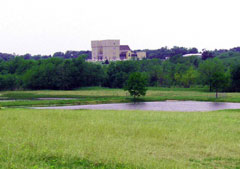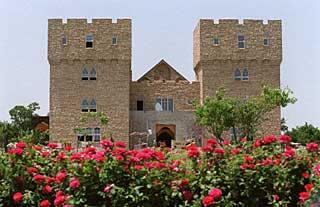 ---
Here is an "almanac" forecast of the wedding day!




Here is a bird's eye view of the castle. However, these photos haven't been updated since 2002, so it was only in the construction phases.