We have a junior suite! It will have a private balcony...something I am very much looking forward to!! Here is the description of the room: "Two twin beds or one queen-size bed, sitting area, private balcony, refrigerator, mini bar, private bathroom w/ bathtub, vanity area, closed circuit TV, radio and phone. (241 sq ft, balcony 64 sq ft)"
We even have our cabin number already! (But I think I'll keep that a secret!)
Click here to see a 360 degree view of the cabin.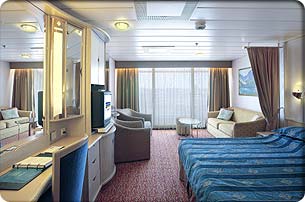 *****************************************